When examining the
public disclosures of fundraising
in the
Clem
-
Burk
Board of Supervisors race, it is interesting to note that
Jim Clem
currently has only $6,070 cash on hand, and has only raised $4,762 this election cycle. With the election fewer than six weeks away, that would appear to be a precarious position for an incumbent to be in.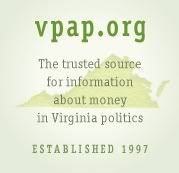 (The Virginia Public Access Project)
That money should be put in context, however. In the
2003 election cycle
,
Jim Clem
raised $27,684. It is
extremely
unlikely that he will only raise 1/5 of that amount in 2007. On the contrary, it appears likely that a significant amount of "late" money will come in as the season closes. That way
Supervisor Clem
gets the money he needs for his election, but the knowledge of
where
that money came from will not be circulated until the election has been decided.
After all, it takes some time to file the disclosure forms, review them, and make them available publicly.
VPAP is a separate website
which uses public filings; Virginia itself does not necessarily make the filings available online. Thus, there are may be five steps between a candidate receiving money and that donation being disclosed online:
1) The candidate files their disclosure form.
2) The state reviews the disclosure form.
3) The disclosures are made available "publicly." (i.e., at an office in Richmond)
4) VPAP acquires the disclosure information.
5) VPAP publishes that information online.
In this manner, a full week could go by between disclosure and online knowledge of the money, let alone the amount of time between
receipt
of the donation and online publication (since disclosure forms are due only periodically, not at the time of donation).
So it is informative to examine the money that
Jim Clem
received for his 2003 election as a guide to the money he might receive for the 2007 election.
Jim Clem's contributions by industry
show that he received over $10,600 from the Real Estate / Construction industry. It is unlikely to expect that these 2003 donors will stay on the sidelines in 2007, when
Supervisor Clem
is opposed by a candidate who will
hold developers accountable
for the costs they impose on the county.
It is also interesting to note that in 2003, more than half of Jim Clem's contributions came from
outside Loudoun County
. Meanwhile, in 2007 over 80% of Kelly Burk's contributions have come from
within Loudoun County
. It is similarly unlikely that those out-of-County interests will decline to contribute to Jim Clem's campaigns in 2007 when they were so instrumental to the financing of his 2003 campaign.
Thus, it is reasonable for us to expect an influx of money into Jim Clem's campaign coffers as the campaign season ends, bringing him the ability to advertise and mail right before the election. It is also likely that this money will come from interests who are not interested in letting it be known they financed Jim Clem's campaign (otherwise, they would have given the money to him already). Leesburg's voters deserve to know who is paying for their candidates' campaigns before making their decision on
November 6th
. We should look carefully at any advertising and mailings from
Jim Clem
in the next month, because that money had to come from
somewhere
.
(For anyone interested in the financial elements of Virginia elections,
VPAP is an invaluable resource
. I encourage you to check it out, if only to see who has been giving money to your local representatives. As ever, I continue to be a volunteer for Kelly Burk's campaign.)