There is a very interesting article in last month's "Arts & Sciences" magazine from U.Va. It's about the
South Lawn Project
, which is expanding the University's Arts and Science's facilities over the next few years.
The project will be among the first LEED-certified building efforts at U.Va. The LEED (Leadership in Energy and Environmental Design) rating system has become the ultimate benchmark for green building in America, providing a "whole building" approach to sustainability. The system focuses on five key areas of human and environmental health: sustainable site development, water savings, energy efficiency, materials selection and indoor environmental quality. - "Going Green," A&S Magazine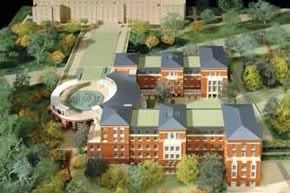 (The South Lawn Project will include green rooftops covered by living plant material.
Image courtesty of the U.Va. Office of the Architect.)
LEED construction
is one of the things that was being considered for future Loudoun County schools earlier this year. School Board Member John Stevens
blogged
about
a presentation
given to the Board about LEED construction. Over in Fairfax County, many schools are already applying
green construction principles
when being built or renovated.
It is interesting to note one of the leaders of the LEED efforts at the University of Virginia is L.F. Payne. He is a former Democratic Congressman and former candidate for Lieutenant Governor who has been mentioned as
a possible future statewide candidate
. In 2003, Governor Warner
appointed him
to U.Va.'s Board of Visitors. It is very encouraging that from that position, Mr. Payne has been advocating sustainable development.
"The Board is committed to the whole notion of sustainability," said L.F. Payne, chairman of the Buildings and Grounds Committee. "We think it is really important that the South Lawn Project — the high-profile project that it is — be LEED-certified and show the commitment that the University has to sustainability."
The state's premier university is an excellent model for
sustainable development of schools
statewide. Sustainable and environmentally conscious schools provide
significant benefits
to the students who attend them, the teachers who work there, and even the communities who need to pay for their maintenance and upkeep. Loudoun County should watch carefully.