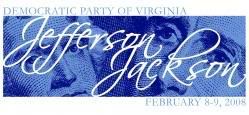 Obama and Clinton are coming to Virginia.
Sen. Barack Obama and Sen. Hillary Clinton have both decided to speak at the Virginia Democratic Party's annual Jefferson Jackson Day Dinner on Saturday night. - The Washington Post
The
Jefferson-Jackson dinner
is a dinner held to honor the founders of the Democratic Party, Thomas Jefferson and Andrew Jackson. Many Democratic party organizations across the country hold "JJ Dinners" to raise funds and celebrate the year in politics. Virginia holds its dinner this weekend, immediately before the primaries on Tuesday. Those of us lucky enough to go will be treated to speeches from the leading contenders for the Democratic nomination.
Afterwards, a bunch of us bloggers will be getting together for beer at the Capital Ale House, where I am sure Virginia's progressive bloggers will form rival "Clinton" and "Obama" gangs and
dance-fight like the Sharks and the Jets
, with
Lowell
and
Ben
serving as rival gang leaders squaring off with smartphones instead of knives.
Or maybe we'll just have beer.