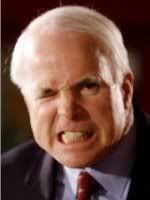 The Presidential tickets this year represent a remarkable contrast between the future and the past, hope and revenge. Barack Obama and Joe Biden are fighters for the American People, focused on where America should be going and how America should be engaging the world and our civil society.
John McCain
and
Sarah Palin
are out of touch insiders posing as outsiders with a tendency towards
anger
and
vindictiveness
. These are not the qualities America needs in its Presidential leadership.
John McCain has a tendency to throw temper tantrums and call people he works and lives with bad names.
John McCain's temper is well documented. He's called opponents and colleagues "shitheads," "assholes" and in at least one case "a fucking jerk."
...
The man who was known as "McNasty" in high school has erupted in foul-languaged tirades at political foes and congressional colleagues more-or-less throughout his career, and his quickness to anger has been an issue on the presidential campaign trail as evidence of his fury has surfaced.

As Schecter notes, McCain's rage is not limited to the political spectrum, and even his family cannot be spared the brute force of his anger.

Schecter, who also blogs at The Agonist, said in an interview the anecdote is "an early example of his uncontrollable temper." In the book he outlines several other examples of McCain losing his cool and raises the question of how that would affect a McCain presidency. - The Raw Story
Meanwhile
Gov. Palin
is more direct. She just uses the power of her office to get revenge after ugly divorces.
Sarah Palin, the Republican governor of Alaska who has been rumored to be on the "short list" of vice presidential candidates for Sen. John McCain has a bit of a scandal in her neck of the woods. On Wednesday, Palin admitted that staff members directly under her made at least 24 calls to Department of Public Safety officials in order to pressure them to fire Palin's ex-brother in law. In the recorded phone calls Frank Bailey, the boards and comissions director, can be heard complaining "[W]hy is this guy still representing the department?". The recorded conversation only recently surfaced, prompting others to wonder if there was a concerted cover-up led by Gov. Palin to hide the embarrasing incident. - Newstin.com
McCain and Palin illuminate and reinforce each other's worst tendencies. Both react with anger and vindictiveness when people cross them. Both owe their positions to corrupt political machines, although they themselves have convinced many that they are untainted by them. And in all these ways, both represent four more years - four more potentially worse years, given these traits - of the Republican governance that gave us Katrina, the Justice Department hiring scandal, and Scooter Libby.
McCain-Palin will mean more vengeance and vindictiveness out of the White House, it will mean driving America deeper into the ditch, and blaming the dirt for being stuck.
Contrast that with the inspiration and hope offered by Sen. Obama and Sen. Biden. The Democratic Ticket is not afraid of a fight, and will stand up for America in all ways - the actions and speeches of this campaign have confirmed that, not to mention their decisions while in office. But more than that, the Democratic Ticket sees America as fundamentally united, needing to work
together
to solve our complex problems, to raise up our best values and secure the future for generations to come. The Democratic ticket is not out for revenge, and has never used power for self-aggrandizement or payback. The Democratic ticket holds out hope for a better America, for all us.
In 2008, the election comes down to hope versus revenge, and in that choice, I choose hope every time.
[update]
Here's and interview with Sarah Palin. "I look forward to any investigation." Today's Republican Party, the best of them look
forward
to being investigated.
And she doesn't know what the VP does!
[update 2]
And there's now a Facebook group:
Sarah Palin Is NOT Hillary Clinton
. Awesome.