Yesterday, after a particularly stressful work conference call, I stepped away from my computer needing a mental break from my job. And so, I drove to the Registrars Office on Sycolin Road and
voted absentee-in-person
.
View Larger Map
The line to vote was longer than I expected, but in retrospect, I should not have been surprised. Both sides have focused on getting their people out to vote and more and more voters are taking advantage of early voting options. Perhaps this year we will finally discover
whether early voting brings new people to the polls
or just gets those who would have voted anyhow, and does not actually change participation levels.
It was inspiring to wait in line with my neighbors on a Thursday afternoon. There was the lady using a walker, totally focused on making sure she gets to vote and having the option of avoiding major discomfort on election day. Or the woman behind me who had a nervous grin a mile wide, worried about whether her vote would count. Just from the looks of things, the majority of people in line with me at around 12:30 yesterday were Obama voters.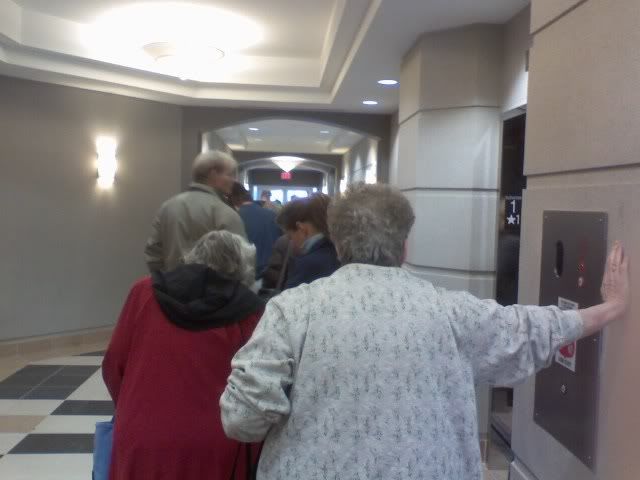 (The line to vote at the Loudoun County Registrar's Office, October 30, 2008)
When I got to the front of the line and presented my registration card, I asked the count. The lady behind the counter said they were doing around 1000/day total, about 700 at the Sycolin Road location and about 300/day at the satellite location. By my estimates, around 7,000 to 10,000 voters may have cast their ballots absentee-in-person this year. That would be about 10% of all the people who voted in 2006. It looks like all the predictions of high turnout will come true.
I took my ballot into the voting booth room, and as I looked at it I was overwhelmed with emotion. Simply looking at the lines on the ballot, and
knowing
I was going to be able to vote for Barack Obama, Mark Warner and Judy Feder this year, and that it would really
matter
was incredible. I was going to vote for a candidate whose own
right to vote
was only fully established two generations ago. I carefully filled in the bubbles on the ballot with the black pen (go Loudoun for the preponderance of
optical scan balloting
in elections), and slid it into the machine.
Walking out of the registrars office, a gigantic grin crossed my face. +1 vote for our side in
the county both sides have fought for this season
.
On Tuesday, I will be working all day at the polls, helping the Democratic Party rise up and assume responsible stewardship of our nation. And I could not be prouder of my vote, my volunteering, my party or my country.
Yes. We. Can.